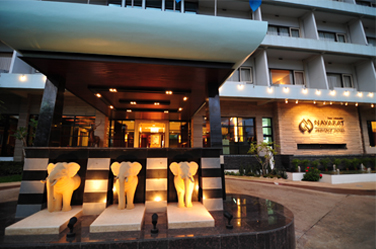 "Our family pioneered the premium class hotel in Kamphaeng Phet which opened in 1979 when there were only small motels housed in wooden commercial buildings offering fan cooled rooms," according to Chantrarat Damrongrat, the hotel's second generation Managing Director. Immediately becoming the talk of the town Navarat Hotel provided air-conditioned accommodations to serve visitors to the historic city. The hotel acquired solar water heating, added in-room entertainment systems, and provided a first class restaurant with excellent Thai and international cuisine accompanied by live music every night. The Navarat Hotel has claimed a position as the topnotch hotel in Kamphaeng Phet since that time.
Inspired to follow in the family tradition Chantrarat, heiress to hotel founder Charoen Damrongrat, undertook the task of upgrading the already beautiful and well-designed structure, the first hotel to receive a first 4-star rating in Kamphaeng Phet. Maintaining the warm at home feeling for travelers to the celebrated Sukhothai era city she updated the appearance to fit modern tastes and changed the name to Navarat Heritage Hotel.
The result of these efforts are unique accommodations that suit the requirements of new generation eco-friendly, historically curious travelers. Comfortable, clean and convenient, visitors can expect aesthetics and an atmosphere of relaxation unsurpassed in the area to sooth the exhaustion of exciting excursions to historical sites or the business gatherings in which they are participating. Select products in terms of design and quality have been assembled and are provided with Thai hospitality. Visit Navarat Heritage Hotel and find out for yourself how we continually strive to be ranked as "The Best Hotel of Kamphaeng Phet"